Place a 104.9 Bumper Sticker on Your Car and Win FREE Gas!

Located on the reverse is a coupon, good for a Buy One-Get One FREE at Captain Dusty's Ice Cream.                                                                                               Good at all locations:
60 Beach St. in Manchester by the Sea
642 Hale St. in Beverly Farms
123 Derby St. in Salem

Here's how to get your new North Shore 104.9 Bumper Sticker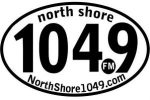 –Stop by the radio station (Monday – Friday, 9 a.m. – 5 p.m.) to pick on up (8 Enon St, Beverly, 2nd floor).
–Visit the Street Team at on of our events
–Go to one of our fantastic advertisers or distribution sites:

Acura of Peabody (Rt. 114)
Michaud Mitsubishi (Danvers)
Indy Auto (Rt. 1 Peabody)
Marblehead Bank (Marblehead)
Linden and Malden Cement Block Company (Malden)
Honda North (Danvers)
Merrimack Valley Chamber of Commerce (Lawrence)
Coffee Time Bake Shop (Salem)
Braga Management (Gloucester)
Italiano (Gloucester)
Align Credit Union (Haverhill)
Align Credit Union (Amesbury)
Align Credit Union (Danvers)
Greater Beverly Chamber of Commerce (Beverly, Cummings Center)
Northeastern Fence (Saugus)
Ruggieri's (Middleton)
Depot Liquors (Beverly)
Breakaway Restaurant (Danvers)
The contest begins Tuesday, May 30! Here's how it works…
–Pick up our North Shore 104.9 bumper sticker and stick it on the back of your vehicle
–Our Street Team Spotters will be trolling the North Shore and Merrimack Valley looking for you and your car proudly displaying a sticker
–You can also snap a picture of your vehicle with a bumper sticker on it (be sure we can read your plate number) and email it to promo@northshore1049.com (stickers temporarily placed on the vehicle for picture purposes only will be disqualified).
–On Mornings With Dana and Mugs they will announce the license plate number of a spotted vehicle between 7:30 a.m. and 8:00 a.m.
–If you hear your license plate number, you will have the morning (Before 10 a.m.) to call us at (800) 370-1049 to win a $50 gas card. (Please do not call us while driving, call only when it is safe for you to make a phone call!)
–Each day we do not have a winner, $25 will be added to the winning pot… so you could win hundreds in free gas!