WBOQ 104.9 FM from North Shore 104.9 FM on Vimeo.
A Word From Our Owner…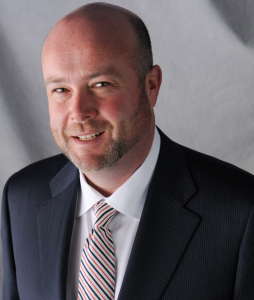 The new North Shore 104.9 has been catching on all over the North Shore and Merrimack Valley! Your Hometown Station plays Timeless Hits from the 60's, 70's, and 80's and keeps you up-to-date on North Shore news, sports, weather, traffic and North Shore Happenings day and night! In addition, North Shore 104.9 broadcasts the Red Sox all season long which means you can capitalize on The Red Sox Nation!
If you need to drive traffic to your business or generate business leads, you need to get your message out on North Shore 104.9! We target active adults with disposable income. Our listeners care as much about The North Shore as you do, and we can help your business today with an effective advertising campaign that will grow your business. So if you're targeting people on The North Shore, then fish where the fish are – North Shore 104.9!
~Todd Tanger, President
North Shore 104.9FM
8 Enon Street
Beverly , MA 01915
(978) 927-1049
Click here for Mission Statement
Customize your advertising package to suit your North Shore Marketing needs. To set up your free consultation, call Jo Ann Gillette at 978-927-1049 or email sales@northshore1049.com
All commercials are written and produced at North Shore 104.9 at no additional cost.
Advertising Terms and Conditions
---
North Shore 104.9 is working tirelessly to market our product to the North Shore. By utilizing such marketing tools as billboards, TV and more we are growing our audience and making your message reach more potential customers.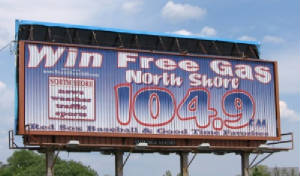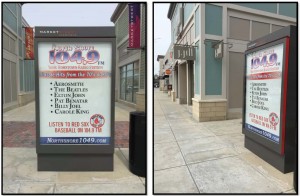 Market Street Lynnfield
For advertising details call (978) 927-1049 x 19
North Shore 104.9 Sponsorships and Features:
Red Sox Baseball
High School Football
North Shore News
North Shore Weather
North Shore Traffic
North Shore Sports
North Shore Beach & Boating Report
New England Ski Report
North Shore Holiday Toy Drive
Topsfield Fair Remote
Online Advertising
Event Sponsorships
:30 second commercials
Weekend Special Interest Shows