Thursday, December 14
6:00 a.m. – 6:30 p.m.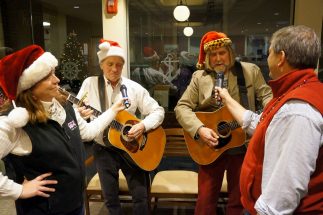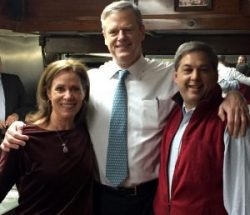 With the need for toys at an all-time high for local children, Senator Bruce Tarr and 104.9 will once again broadcast live all day from nine locations on the North Shore to collect as many toys, gift cards, and monetary donations as possible to fulfill North Shore needs. The live broadcasts are open to the public and will feature local entertainment, schools choirs and bands, great food, and a visit with Santa Claus and Mrs. Claus!
Below you will find the nine broadcast locations and these businesses are collecting donations until Monday, December 18th. In addition to the broadcasts stops we have additional drop-off locations throughout the area, see below!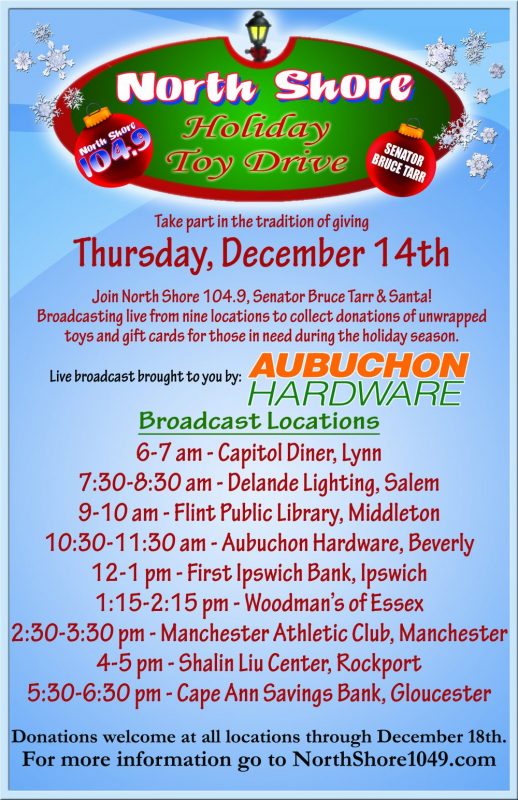 Additional donation drop-off locations through December 18 include:
Beverly: Amtrak Vacations (Cumming Center)
Beverly: Greater Beverly Chamber of Commerce
Beverly: Clay Dreaming
Beverly: Henry's Fine Foods
Beverly: Rasta Pasta (offering a free pizza to anyone dropping off an unwrapped toy valued at $15 or more.)
Beverly: AFC Urgent Care
Danvers: Align Credit Union
Danvers: Breakaway
Danvers: Giblees Menswear
Danvers: First Ipswich Bank
Danvers: North Shore Elder Services
Danvers: NE Home for the Deaf
Essex: First Ipswich Bank
Gloucester: Cape Ann Chamber of Commerce
Gloucester: First Ipswich Bank
Gloucester: Manchester Athletic Club
Haverhill: Aubuchon Hardware
Ipswich: Aubuchon Hardware
Lynn: Lynn Museum
Manchester-by-the-Sea: Cape Ann Savings Bank
Manchester-by-the-Sea: Molisse Realty Group
Newburyport: First Ipswich Bank
Rockport: Cape Ann Savings Bank
Rowley: First Ipswich Bank
Salem: Sea Level
Salem: Finz Restaurant
Saugus: Northeastern Fence
Tewksbury: Aubuchon Hardware
Wenham: Wenham Museum