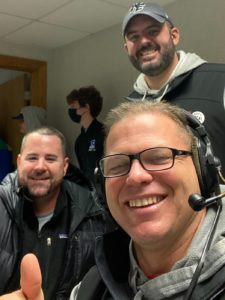 Play by play – Steven Bowen Jr.
Steve Bowen's sports radio experience includes play by play, sideline reporting and co-hosting a high school sports show at a small radio station in Lowell.  He has also announced football/basketball games at the TD Bank Garden in Boston, DCU Center in Worcester MA and all across the Merrimack Valley.  During the day Steve works with his family as a HomeVestors franchisee, which specializes in buying homes in need of repair and helping homeowners out of "ugly" situations.
Color – Sean Gallagher
Sean Gallagher has been broadcasting high school football games on North Shore 104.9 for over 15 years.  When Sean is not talking in front a mic he is a maverick in education on the North Shore.  From Principal at Beverly High School, to Assistant Superintendent of Wilmington School system and now Superintendent of the Newburyport School system, Sean is an on the go kind of guy.  Sean hails from Salem, MA where he has coached football at Salem High School, and while at Beverly High School he introduced and coached the wrestling team.
Here are the games you can hear on North Shore 104.9!
2021 HIGH SCHOOL FOOTBALL SCHEDULE
Friday                    Sept  10                Masco @ Newburyport                                7pm
Saturday                Sept 18                 Central Catholic @ SJP                               1pm
Friday                    Sept 24                 Beverly @ Peabody                                       7pm
Friday                    Oct   1                    Winthrop @ Danvers                                   7pm
Friday                    Oct   8                   Marblehead @ Masco                                  7pm
Friday                    Oct 15                   Catholic Memorial @ SJP                            7pm
Friday                    Oct 22                   Gloucester @ Peabody                                 7pm
Friday                    Oct 29                   Methuen @ N. Andover                               7pm
Playoffs
Friday                    Nov 5                    Apponequet @ Swampscott                         7pm
Friday                    Nov 12                  Wachusett @ St. John's Prep                       6pm
Friday                    Nov 19                  Swampscott vs Bishop Fenwick                  8pm
Thanksgiving Day
Thursday             Nov 25
High School Football coverage made possible by our amazing sponsors: