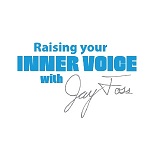 Raising Your Inner Voice with Jay Foss
With more than 17 years in radio (WBZ, WODS, WBOQ), Jay Foss steps in front of the microphone to bring dialogue from around our community, on-air. With a range of guests including local experts, university professors and motivational mentors, Jay brings together viewpoints from around our neighborhood. This is a safe place to explore topics, discover
different perspectives and grow as a member of this  community. In addition to guests, he's intent on listening to YOU (add your voice to the conversation at 1-800-370-1049 Sundays at 7pm) to learn how you're dealing with Covid 19, race relations, and engaging our community to make it
a better place to live. NOT just another talk show, Jay Foss wants to raise your inner voice – on North Shore 104.9 Sunday evenings at 7pm.